Baskets make it so simple to add a touch of Farmhouse basket wall charm to any room! They create stunning wall art, incredible planters, picture-perfect storage, and much more.
In farmhouse style, there are so many types of materials used to make it look rustic, such as: bamboo, wood, metal, rattan, or wicker, which might give you confusion choosing among them. Especially when you're a home decor newbie, but you'd love to cover your blank boring wall right now.
Knowing thoroughly what you've been struggling with, we're offering you some of the best wall basket decor ideas based on different basket types, so that you can decide which one is the most suitable for your house.
1. Bamboo basket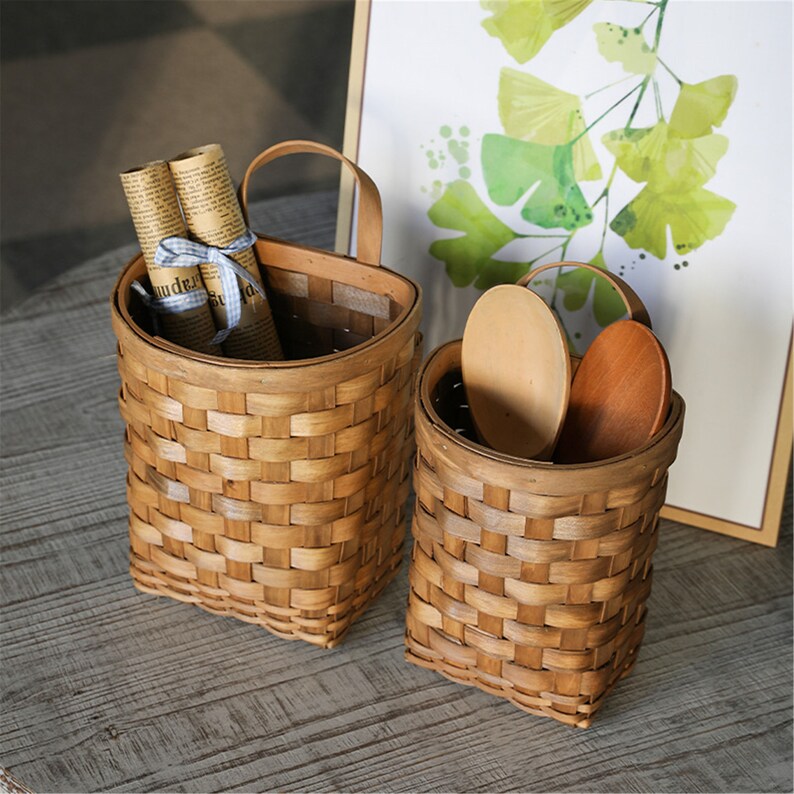 The handcrafted bamboo storage basket will make an excellent ornament for your house, as well as storage for your belongings, jewels, children's toys, and magazines.
You can also place it in the kitchen to hold your kitchen utensils.
These bamboo baskets come in a variety of sizes, shapes, and designs so that you can be freely creative when decorating your house with them.
It's a fantastic idea to utilize it as a flower basket.
2. Tobacco Basket
With the rising popularity of the Farmhouse design, tobacco baskets have become quite popular decor elements. Then, as the seasons change, people begin to replace their traditional front door wreath with a tobacco basket wreath.
It's a really simple DIY project to complete. It won't take you more than 30 minutes, and you'll only need floral wire and scissors.
Whether you use fresh or artificial blossoms, flowers, or foliage, attaching them to a tobacco basket is a breeze.
Another interesting way to adapt tobacco baskets to farmhouse style is making a bouquet, which you can hang in any room, such as: living room, kitchen, or bedroom in your house, or giving it to your beloved during holidays like Christmas, Thanksgiving, or Mother's Day.
3. Rattan and wicker basket
Rattan and wicker are among the most popular materials used to weave a basket. Because of their high applicability, and sturdiness, you can hang them on your wall for all year long.
Rattan and wicker come in a variety of shapes, sizes, and of course, colors. To manage an authentic farmhouse basket wall, you need to stick to earth-toned baskets, which will make your space rustic, but still warm, and cozy.
You can shop at our Etsy, and Amazon, or visit our website ChicnChill for more
3. Metal basket
Metal may be used in a variety of ways throughout the house. However, farmhouse metal baskets might be new to you.
These metal baskets are a very good alternative to store flower pots, family pictures, wreaths, etc. It'll bring an organic and earthy vibe, which is exactly what a farmhouse needs.
4. African basket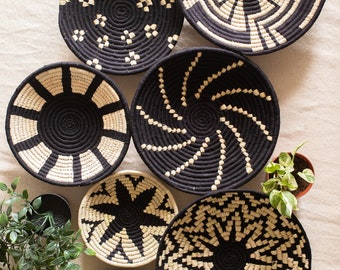 Handcrafted by the women from African villages, African baskets know exactly what the farmhouse style needs. The best tip when collecting African baskets for your farmhouse-inspired home is choosing matching tones (often black, white, or brown), and as many sizes as possible (from extra large to tiny). And after finishing this huge wall art, you can hang it in the living room, dining room, or your bedroom as a focal point.
This will definitely brighten up the whole space in a very special way.
Summary
Farmhouse decorating is thought to be tough and time-consuming until you really get to work on it. We believe that with your love toward your home, you can do more than just this.
But if you're a very busy person, you can get inspired from our social media: Instagram, Pinterest, TikTok, and many other social media platforms. Or just by some searches on Google with the keyword, tons of photos will show you the way.